When cold and flu season is at its peak, local emergency rooms (ERs) and urgent care clinics typically operate at maximum capacity. It is possible you will need to seek alternative methods of medical care or be more selective before seeking medical attention. Phoenix Family Medical Clinic cares about you and your family's medical needs, and we want you to receive the absolute best care no matter where you go. Take a look at our guide to know when you should go to the ER, the urgent care clinic, or wait for a regular visit with your primary care physician.
When to go to the ER:
The ER is a triage clinic that cares for sick or injured individuals based on the severity of their health complications. Those with cardiac, respiratory, profuse bleeding or open wounds are always the first priority. Other symptoms that take priority over the common cold and flu are patients presenting with chest pain, severe stomach pain, intense headaches, skin burns, and more.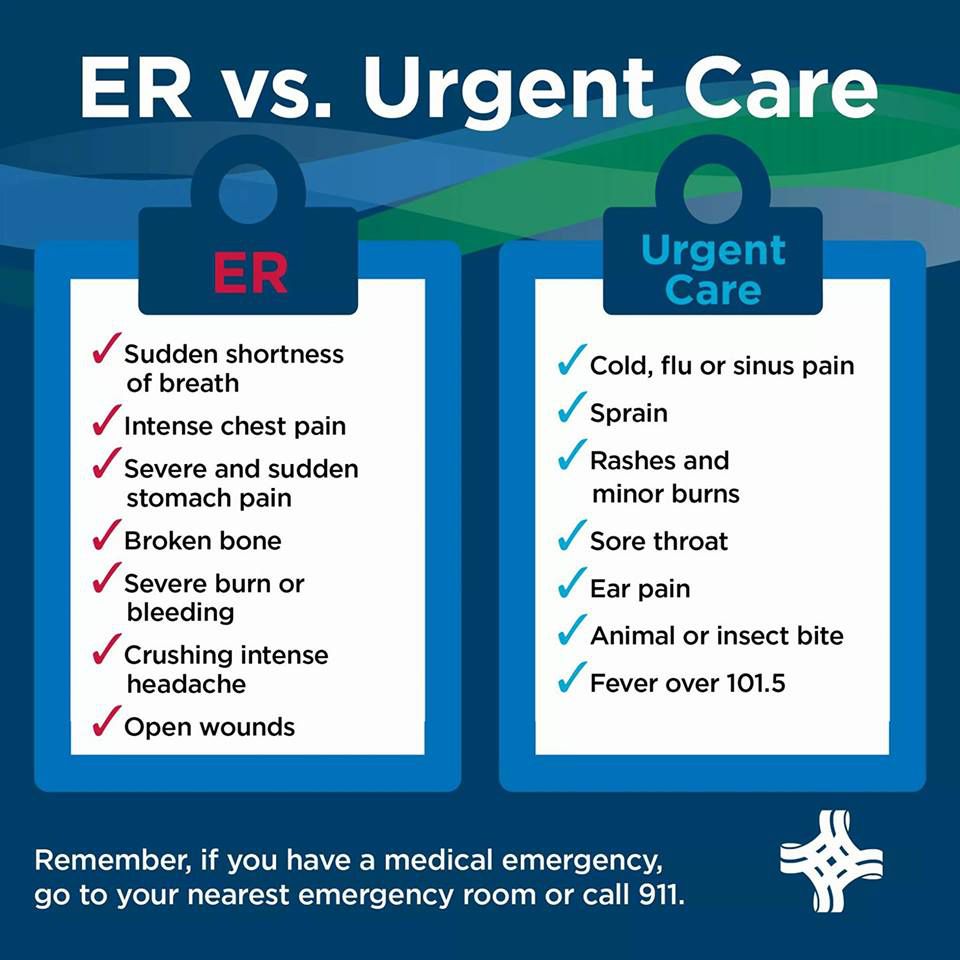 That is why there can be long wait times for individuals with less pertinent health concerns. Save your time and money by instead going to a facility that accepts same day appointments.
When to go to a same-day clinic:
Same day clinics can also become overloaded during peak cold and flu seasons, so here are some rules of thumb to follow. If you have any of the following, it's best to go to a local urgent care clinic with same day appointments rather than the ER:
Cold, flu or sinus pain
Muscle or joint sprain
Rashes or minor burns
Sore throat
Ear pain
Animal or insect bites
Additionally, teenagers and adults should go to a same-day clinic to see the doctor if their fever spikes above 101.5 degrees Fahrenheit, or if a low-grade fever (with temperatures ranging between 98.6 – 101.5 degrees Fahrenheit) has persisted for more than three days without decreasing. The numbers are different for babies and younger children. See this quick guide from Parents Magazine to help you determine when to worry and when to help your child fight off their fever at home.
In the event you or your child develops trouble breathing, then a same-day appointment at a family practice can also provide quicker relief than a visit to the ER. Otherwise, stay home from work or school to rest. Consistently drink fluids as a way to help break fevers and recover from the congestion and drainage.
When to wait for your primary care physician:
There are many other scenarios that are not medical emergencies and can wait until you can schedule an appointment with your primary care physician. If you do not need urgent medical attention, it is best to wait or schedule ahead for these types of appointments (see list below). This allows our staff to triage and provide urgent medical care for those who have more severe conditions that require an immediate response:
Wellness exams
Sports physicals
Prescription refill appointments
Allergy testing (unless it's an emergency allergic reaction)
Dry coughs
Routine monitoring of pre-existing conditions (ie. A1C for those with Type 2 Diabetes, blood pressure checks for those with high blood pressure, cholesterol checks for those with high cholesterol, etc.)
Every medical condition is a serious matter for physician's assistants, providers, and front desk staff, but when waiting rooms are full capacity, some triaging is necessary to ensure that the clinic or healthcare facility operates as efficiently as possible. You can do your part too by being aware of when medical issues only require a physician at a later time, a same-day appointment, or emergency room visit.
The providers and medical staff at Phoenix Family Medical Clinic care about every patient that walks through our doors. We do not discriminate against the uninsured or those with pre-existing health conditions. When you need same-day appointments at a board-certified family practice, visit Phoenix Family Medical at any of these five locations.
Wednesday, 31 January 2018 19:55,
Published in
Blog