It's easy to feel helpless when your baby is running a fever or fighting off an unknown illness. This is why it's even more frustrating when your infant's health issues present when it is already after-hours for your family's pediatrician. If you find yourself in this situation, don't panic. You do have options: you could wait it out, take your child to the ER or try a local urgent care clinic. Our pediatric providers share factors to consider that will help you decide whether to take your infant to a pediatric walk-in clinic instead of the Emergency Room (ER).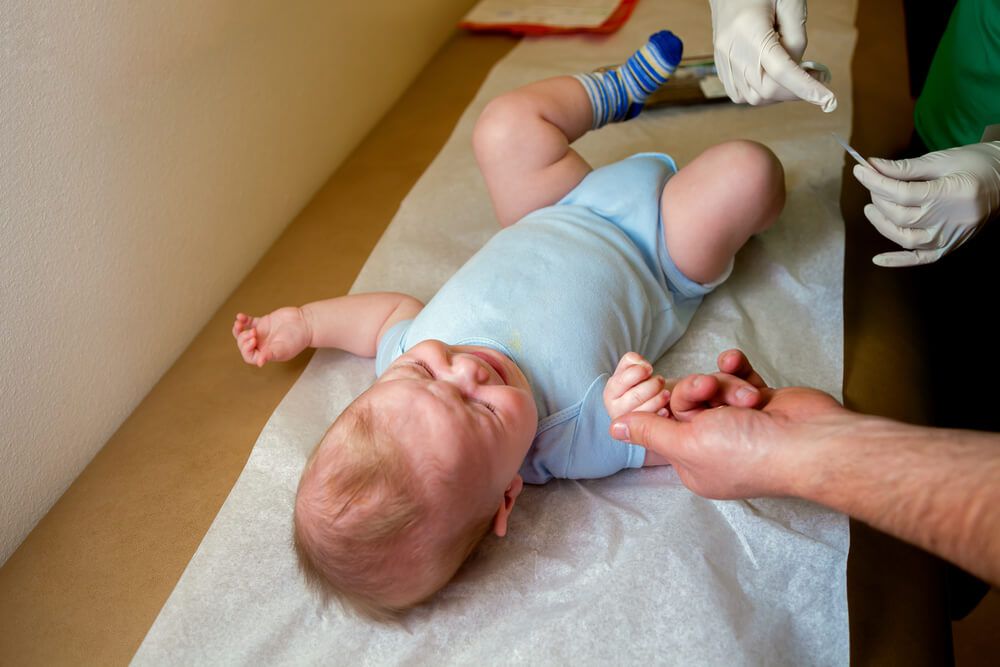 Colicky Coughs - If your baby has a deep and heavily wet sounding cough, it's important to get them checked out by a medical professional. Before paying a large co-pay at the ER, try to seek the help of a pediatric urgent care facility in Phoenix, AZ since it is much more affordable for parents with a smaller wait time.
Most commonly known as croup or RSV, babies are most susceptible to developing a colicky-like cough during the colder months. The deep and uncomfortable sounding coughs can be caused by everything from allergies or bacterial strains common with the parainfluenza viruses. During naptime and nighttime hours, it may sound more like high-pitched whistling or labored breathing. Croup makes the voice box (larynx) and windpipe (trachea) swell, which makes it difficult for children to breathe and rid their bodies of mucus. Children with RSV also experience inflammation of the lung's small airways. Left untreated, it can cause your child to run a fever and potentially develop pneumonia.
The most common courses of at-home care for croup and RSV are to:
Run a humidifier near your baby, especially at night
Have your child drink plenty of fluids when they are awake
Elevate their head when they sleep
Use a bulb syringe to help get mucus out
Croup typically goes away on its own within one to two weeks. RSV is a viral infection, which means parents will need to wait for it to run its course. It's important to watch for signs of dehydration and low-grade fevers. If either of these occurs while practicing the at-home remedies and care, take your child at least to a pediatric urgent care clinic for more advanced medical care in treating dehydration and breathing difficulties.
Ear Infections - Ear infections can happen at any point during the year. The swelling and pressure build-up are both more than enough discomfort to cause your baby to be fussy and cry. The most common method of treatment at our pediatric walk-in clinic for ear infections is to use medicated ear drops. Symptoms tend to alleviate within seven to ten days.
Digestive Issues - Stomach or intestinal issues are most likely going to be either your baby's diet or a viral infection. While babies typically have a diarrhea-like stool on a consistent basis, watch for reactions to certain foods, since this could indicate the presence of an allergy. Common food allergies for babies include milk (lactose), soy, peanuts, and shellfish. Food allergies can present in other ways including rashes or raised bumps on their skin, facial redness, tongue swelling, and even anaphylaxis. Whenever your baby experiences swelling or difficulty breathing, get immediate emergency care for your child.
If allergies are ruled out, then it is likely a viral infection known as gastroenteritis or the stomach flu. It can present also as a bacterial infection in airborne or foodborne illnesses caused by salmonella, staphylococcus, E. coli, and many other bacterial strains.
Dehydration is most common with the stomach flu. If your family pediatrician is unavailable, a local walk-in clinic physician can help your child fight the signs of dehydration. Monitor the following symptoms, and seek urgent medical care if your child has any of these:
Vomiting (longer than two days)
Bloody stool
Fever exceeding 100.4 degrees Fahrenheit
Decreased urination
Excessive fatigue or fussiness
Crying without tear production
Bumps and Bruises - Babies tumble and fall all the time, but most bruises and bumps are harmless. If your child has hit their head or experiences excessive redness or swelling at the bump site, then it might be time to seek medical attention to rule out concussions and any internal injuries. A local urgent care clinic may be able to help if they have in-house imaging. Otherwise, it's best to go to the emergency room where there is more imaging equipment available.
It pays to be aware what a local walk-in clinic with pediatric services can offer. You can save quite a bit on your child's medical bills with this friendly alternative when your pediatrician is unavailable.
Phoenix Family Medical strives to be a parent's choice as an after-hours pediatric walk-in clinic. With most locations open as late as 7 PM on weekdays, parents throughout the metro Phoenix area are thankful to have a more affordable alternative for their children. Book an appointment or walk in at any of our clinics valley-wide during normal operating hours* same-day appointments, even on Saturdays!
*Some locations may stop accepting walk-ins within an hour or two of closing, depending on patient volume. Calling ahead is recommended during the later hours of the day.
Thursday, 21 December 2017 15:40,
Published in
Blog